This recipe is a delicious and fairly easy recipe to make.  My family loved it when I made it for them. I got the recipe from my produce delivery Company. Klesick Farms is where the recipe came from, and they adapted it from www.finecooking.com.  When I made it, I made my own variations which gave it an even more aromatic flavor.  I hope you like this recipe as much as we did.  You can serve it as we did, with barbecued chicken and steamed zucchini. It can be served with just a salad and another vegetable if you are vegetarian. It would also go well with many tofu recipes, roast chicken or Braised Lamb. It's quite a versatile dish.  Give it a try, and Enjoy!  Thanks for stopping by, Iris
Ingredients:
1- cup of Basmati rice
1- 13.5 oz. can unsweetened full fat or light coconut milk
1/4 -1/2 cup of water as needed (see recipe)
1 oz. of fresh turmeric, peeled and finely grated (about 2-3 tablespoons)
Kosher salt
1/2 teaspoon of light brown sugar or Agave
1/8 -teaspoon ground cinnamon
a pinch of ground cardamom or nutmeg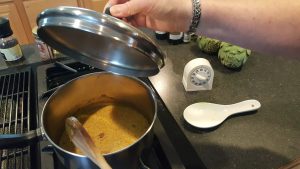 1/3 cup of golden raisins
1/2 teaspoon crushed red pepper flakes
1/3 cup coarsely chopped pistachios
Instructions:
Rinse the rice in a medium-mesh strainer under cool running water, swishing it with your hand occasionally, until the water runs clear.
In a 4 quart saucepan, combine coconut milk, turmeric, 1/2 tspn. of salt, sugar, cinnamon, and cardamom or nutmeg. Stirring frequently , bring the milk to a gentle boil over medium heat. Remove the pan from the heat, add the raisins, and let steep for 20 minutes.
Return to a low boil, reduce heat to very low, and stir in the rice and pepper flakes. Add additional water if mixture looks too thick and you're worried about the rice sticking. (you can always cook it off). Cover and cook until the liquid is absorbed , 10 -12 minutes. Remove the pan from the heat, and let the rice stand, covered for 8-10 minutes more.
Fluff with a fork, then serve topped with the pistachios.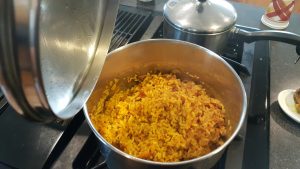 My own variations:  Instead of more water while cooking I added low sodium chicken broth, about a 1/2 cup while the rice cooked with the other Ingredients. Instead of coconut milk, I used almond milk (unsweetened) added a tablespoon of coconut oil, and another tablespoon of shredded coconut. That was because I didn't have any coconut milk in the house. I got creative. I also used agave syrup due to the fact that it is low glycemic. So there you have it. Enjoy!  It is delicious either way you prepare it.