Oven Baked Boneless Chicken Thighs with Homemade BBQ Sauce and Homemade French Fries.
This is a recipe my family loved and made often while I was growing up.   The barbecue (BBQ) sauce is a combination of ideas from a friend and my own added touches.  It can be used with chicken, or pork, or beef ribs.  The meat can be made in the oven as I describe here or on the outdoor grill.  Both ways are very good, although the oven method can make a better, more moist meat.  For more BBQ flavor to be absorbed by the meat, you can marinate the meat in the sauce wrapped in foil and placed in the refrigerator for 8 hours before you cook it.  This makes the meat moist and tasty, and the flavor really gets absorbed by the meat this way.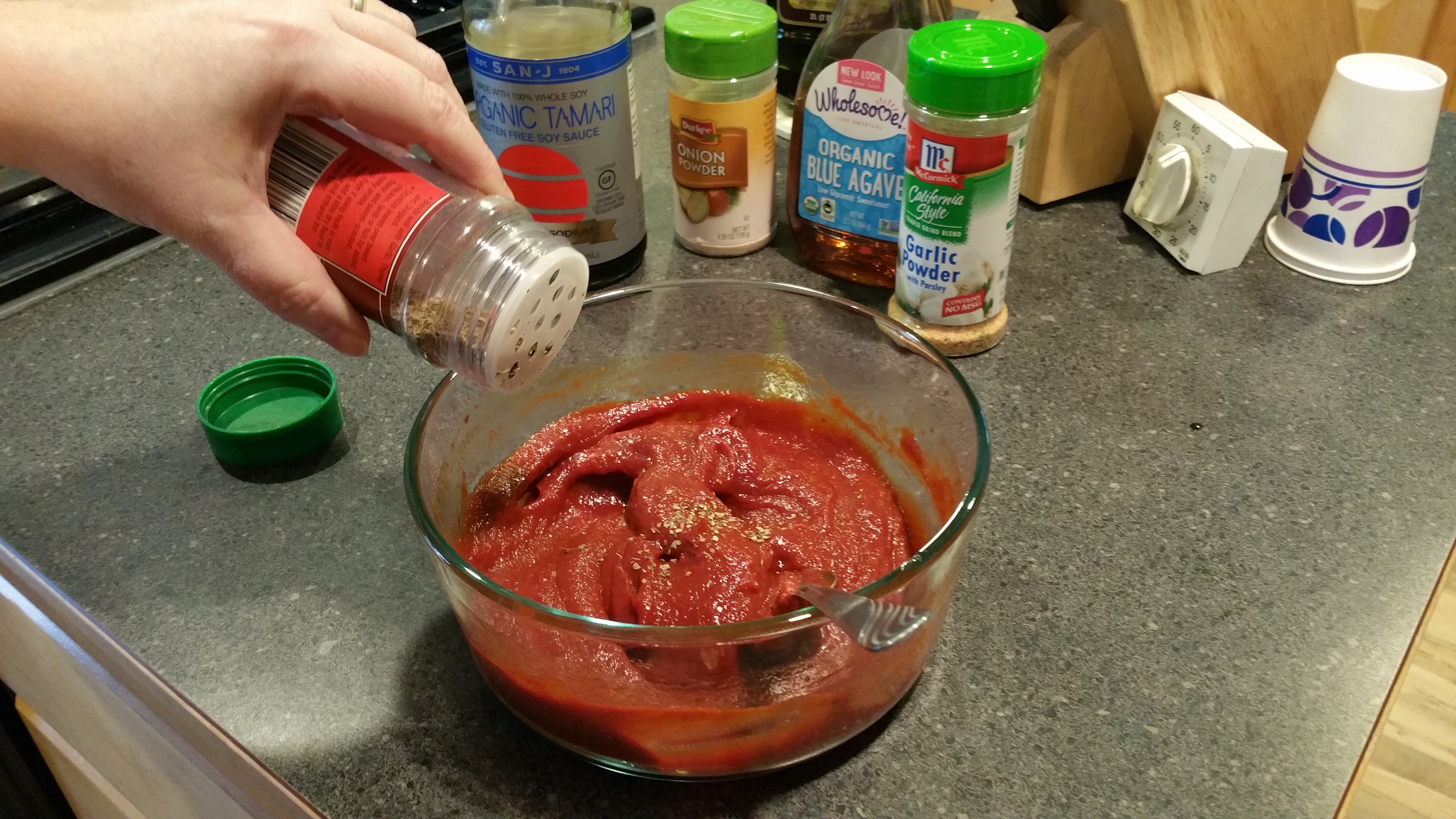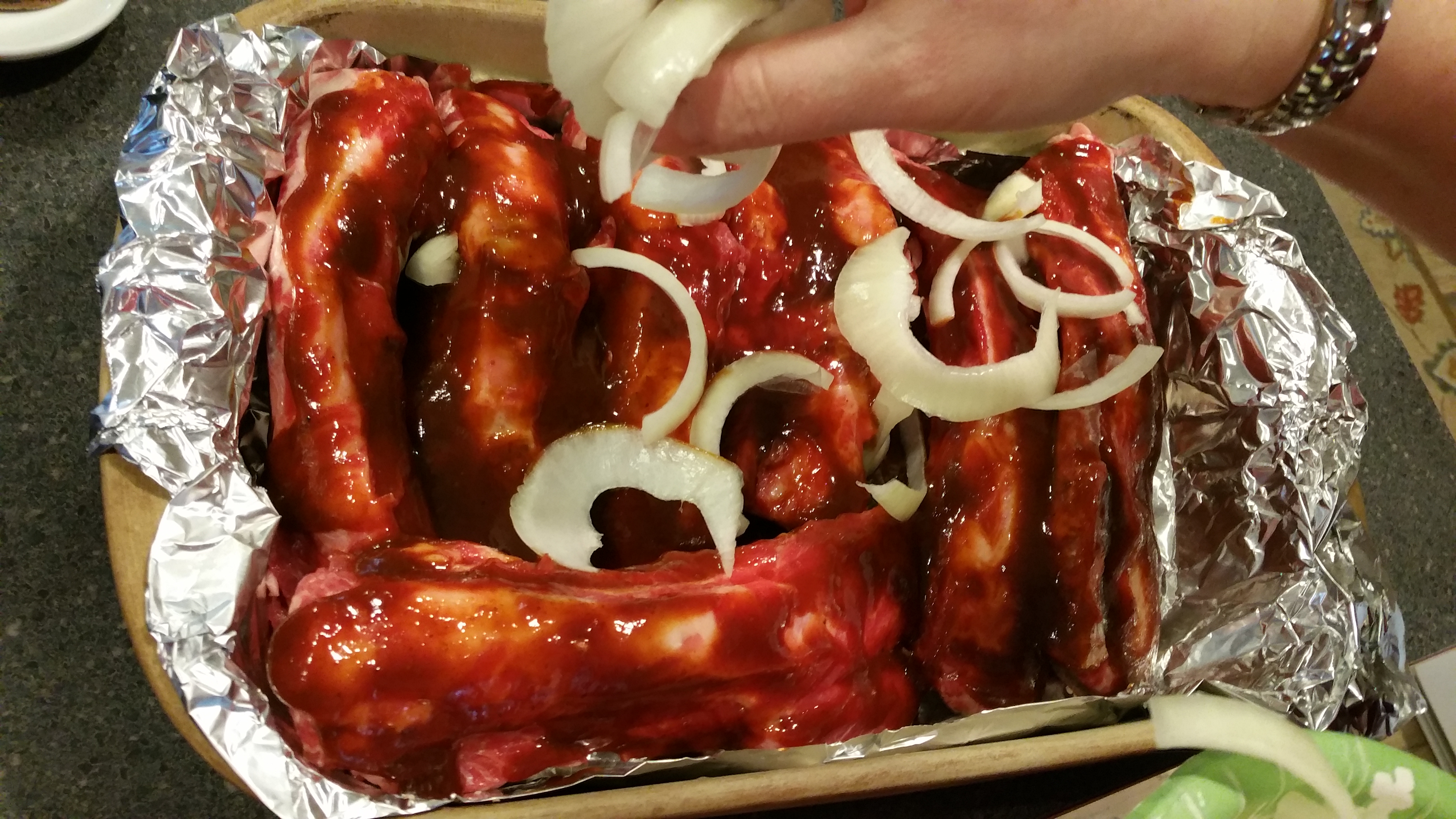 BBQ SAUCE  FOR CHICKEN OR RIBS
Ingredients:
6 boneless chicken thighs
Sauce:
1/4 to 1/2 cup of water (depending on how thick you like your sauce)
1 cup of ketchup (Heinz ketchup is gluten-free.  Read labels–most will say if it's gluten-free)
2 tablespoons tomato paste
1/4 cup of low sodium, gluten-free soy sauce
1/4 cup of agave syrup (maybe a little more if you like it sweet) or brown sugar can be used
1 teaspoon of olive oil
Dash of cayenne pepper
2 teaspoons chili powder
2 teaspoons Worcestershire sauce
1 teaspoon apple cider vinegar
1/2 teaspoon basil
1 tablespoon lemon juice
2 teaspoons garlic powder
2 teaspoons onion powder
Directions:
1. Preheat the oven to 400 degrees.
2. Whisk all the ingredients together in a bowl.
3. Pour sauce mixture over chicken or ribs.
4. Cover with aluminum foil
5. Bake meat in preheated oven for about 45 minutes.  Turn the meat once halfway through, putting more sauce on the other side. Cook until meat is no longer pink at the bone for chicken (or pork especially). For beef ribs, 35 to 40 minutes should be sufficient.  If you use a meat thermometer (with chicken), insert the meat thermometer near the bone.  It should read about 165 degrees.
Note: Especially with pork and chicken be sure meat is no longer pink at the bone, it needs to be thoroughly cooked.
This BBQ meat recipe can be served also with a side salad and homemade French fries.  Here's a recipe I'd like to share for Fries.
HOMEMADE FRENCH FRIES

Ingredients:
2 to 4 russet potatoes (1 potato per person is what I suggest)
2 tablespoons olive oil
Salt (optional)
Directions:
1. Wash potatoes well and scrub with a vegetable brush.  Cut up potatoes with a French fry chopper. Or, using a knife, you can cut to shape into French fries.
2. Pour olive oil into a deep frying pan and cook until crisp, tossing carefully and frequently. Cook on medium heat.  Raw potatoes can take up to 45 minutes to cook crispy.  Use your judgment on tenderness and crispiness.
Variation: You can also oven fry them at 400 degrees with a little olive oil on a cookie sheet.  Bake them for about 45 minutes turning occasionally, until they look brown and crispy and are soft when poked with a fork.  If cooking them in the oven, it's a good idea to toss the cut-up fries in a bowl with the olive oil and a little salt before baking them.  The fries will be crispier that way and less likely to dry out.
Other ideas for serving with BBQ meat: you can have side dishes of baked beans or your favorite vegetable.  Busch's baked beans or Heinz gluten-free baked beans are brands I use.
* For more ideas on gluten-free products to use in my recipes, you can refer to the gluten-free mall on this blog.  Also, you can refer to celiac.org