My Own Wild Broiled Salmon
This is a recipe I like to make for my husband.  It's a healthy recipe, and I'm always encouraging him to eat healthy meals and stay away from prepared foods from fast food restaurants.  He was a junk food junky for many years in his youth.  So when he married me and over time, I have swayed him into making healthier choices, especially when eating out in restaurants.  My having to be gluten free at home has worked for his good.  Because he wanted me to get well and heal, he ate gluten free at home with me.   After a while, he realized how good the food was, and he couldn't tell the difference between gluten free foods and foods that contained wheat and gluten.  He began to prefer my meals over restaurants.  I was very pleased he was enjoying my cooking!  And, I was enjoying  him doing the dishes.  This is his part in helping me.   Lol!
One of his favorite meals was spaghetti with meat sauce, a favorite Italian meal I often made for him and my son.  Lasagna was another favorite of theirs.  They thought these recipes were never going to be the same.  And at first, I have to admit, it took me a long time to find a good gluten-free pasta.  Once I did, none of us could tell the difference, and my Italian meals were saved and did not have to be deleted from the menu.  Thank God!   Since I was of Italian descent, I wasn't really willing to give up those wonderful Italian meals inspired by my grandmother.  My mother also enjoyed making some of her mother-in-law's Italian dishes.  Thank God society has caught on to gluten-free living.
So, enjoy this meal of salmon, baked potatoes, and asparagus!
BROILED SALMON

Ingredients:
1-1/2 pounds of salmon fillets
1 fresh lemon
Garlic powder to taste
Salt, very light
1/3 cup of gluten-free, low-sodium soy sauce
1/4 cup agave or maple syrup (I use Wholesome Foods agave, as it is certified gluten free)
1/3 cup water
1/4 cup extra virgin olive oil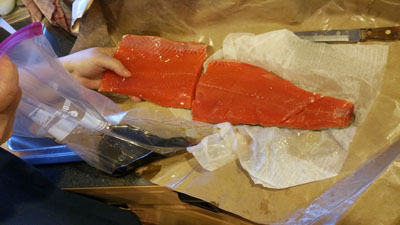 Directions:
Note: Before beginning this fish recipe, there's something  I do while the fish marinates in the refrigerator.  The last hour of marinating the fish, I  put some potatoes in the oven to bake for an hour.   When the potatoes are done, I take them out and wrap them in foil to keep them warm. Then, I  begin broiling the fish.  While the fish broils, which is only for about 12 minutes, the asparagus can be steaming.  Then, everything is done at the same time, and nothing is cold.
1 – Rinse salmon fillets with a little water from the sink (I do this just in case the fish might have been exposed to some grams of gluten accidentally during cutting and packaging at the store).  For this reason, I rinse all my meats!  Then, pat dry with a paper towel and place fillets in a Ziploc bag for marinade.
2 – In a small bowl , mix together low sodium soy sauce, agave, water, and olive oil.
3 – Pour marinade over fish in the Ziploc® bag.
4 – Close the bag tightly.  Be sure there are no leaks before gently tossing the fish in marinade.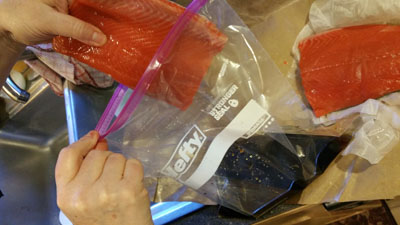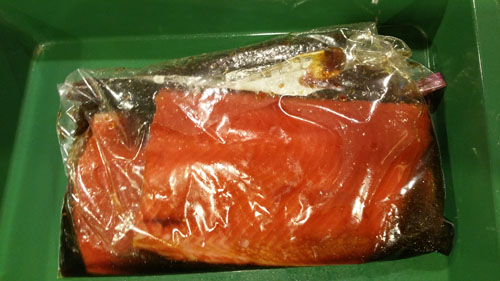 5 – Place the bag with the fish and marinade on a tray in the refrigerator for about 2 hours.  This will give the fish a good amount of time to absorb the flavors.    Note:  If you want a less strong marinade, you can reduce the time to 1 hour in the refrigerator.  But I find that the two hours gives the fish a chance to really absorb some nice flavor's.
6 –  Preheat the oven to low broil.
7 – Lightly grease a pan. Take the fish and a small amount of marinade out of Ziploc® bag and place the fish on the pan to be broiled.
8 –  Squeeze a small amount of fresh lemon over the fish.
9 – Broil on low broil for about 12 minutes.  To test the salmon, use a fork–if there is no raw pink in the middle and it flakes off the fork easily, it is done.  You don't want to over cook, because this makes the salmon (or any kind of fish) too dry.  The less cooking time, the better. You want it to be moist!
Baked Potatoes:
Preheat oven to 400 degrees.
Bake for 1-hour until crispy on the outside and soft on the inside.  Top with fresh chives, a pat of unsalted butter, and a teaspoon or two of low fat sour cream.  If you are lactose intolerant, you can use a brand of gluten-free, soy sour cream, or yogurt.  The same with the butter; there is gluten-free and dairy-free butter and cheeses.
Steamed, sautéed Asparagus:
1 – Wash a bunch of asparagus spears well and then pat dry with a paper towel.
2 – Pour about 2 tablespoons of olive oil in the bottom of a non-stick pan.
3 – Place asparagus in the pan and season with garlic powder, parsley, salt, onion powder, and pepper to taste.
4 – Saute' the asparagus on low to medium till al dente (not soft).  It should be a little crispy but also not raw.
5 – Turn off the burner, cover, and let it steam for just a few minutes.   This will allow the asparagus to absorb the flavors of the seasonings.