Creamy Cucumber dressing
Recently, I decided to share homemade recipes for salad dressing.  Not just to ensure Gluten free , I needed some ideas on salad dressings that are also made with the right types of fats, and not so much sugar, sodium or additives.  A lot of dressings you find in the store can contain too much sodium and sugar. Too much of both is not good for most autoimmune diseases, especially the thyroid, which I struggle with.  It also saves on cost.  So I created this section for those reasons!  I hope these recipes help you in your adventure to greater health.      Here is the first one :
Creamy Cucumber dressing
Ingredients:
1/2 cup cucumbers peeled and chopped .  (this is equivalent to 1- medium size cucumber roughly)
1 Teaspoon of fresh lemon Juice
1 1/2 -2 teaspoons of Garlic powder or 1 clove of minced fresh garlic.  I use the fresh garlic. It gives a better stronger garlic taste. Coming from my European background and loving garlic as I do, you can't beat fresh.
1/2 -teaspoon of salt (Again this is optional). If you need to watch sodium, you can either cut the salt by half, or omit it entirely. I often omit it.
1/4 of a teaspoon or less of black pepper. Depends on your taste for pepper.
sprinkle in a little dill and fresh parsley (be sure not to add too much, as the taste can be overpowering. A little goes along way.
1- teaspoon -1-tablespoon of Honey or Agave syrup. (I often use agave syrup due to it's low glycemic quality). (I also use wholesome foods brand of agave or honey as it is certified gluten free).
1-cup of plain yogurt, always be sure the brand is Gluten free
*optional you can add about a 1/4 of a fresh red pepper sliced to blend with other ingredients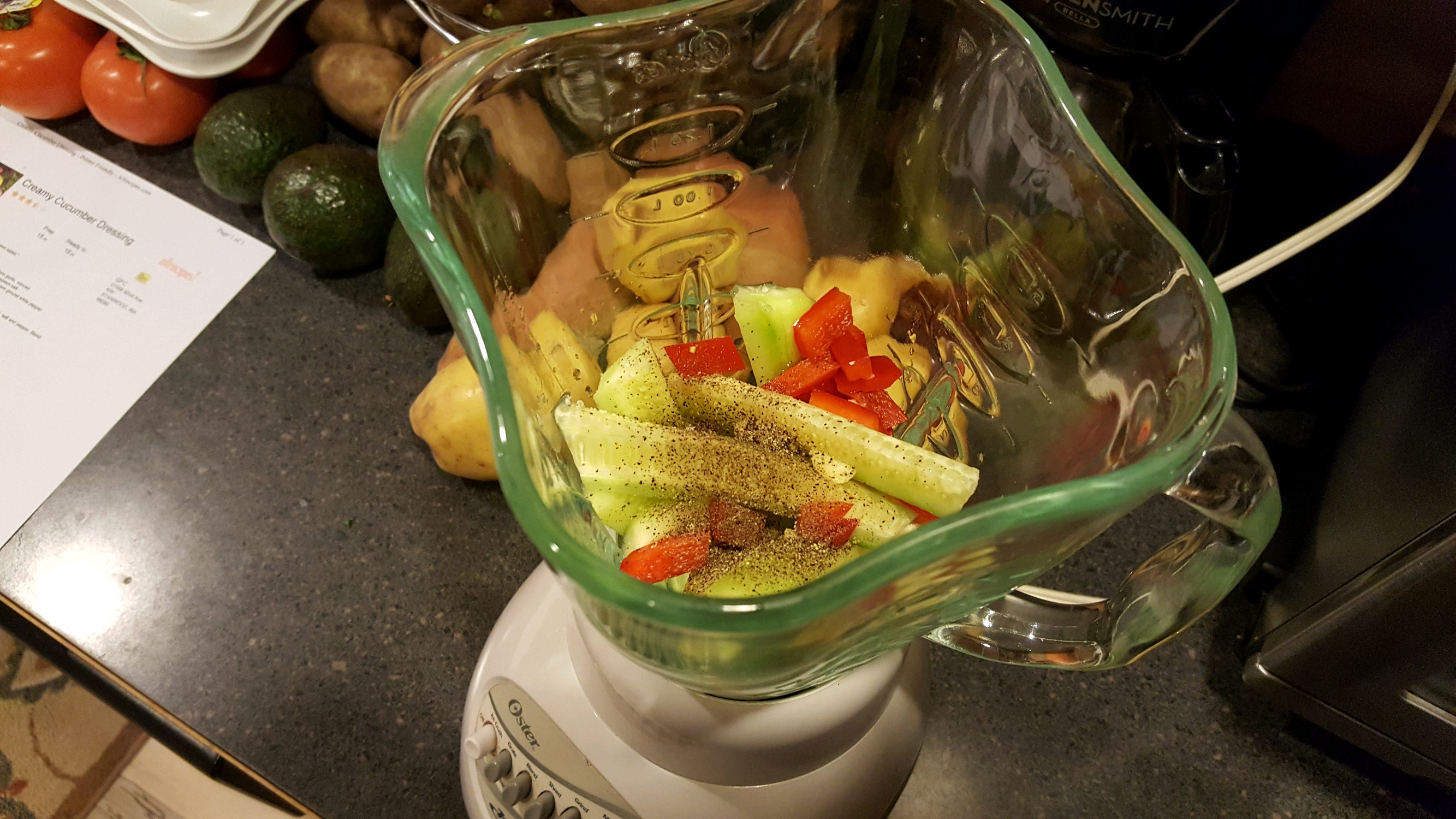 Directions:
Start with peeling and slicing cucumbers (and red pepper if you decide to add it), in small pieces. Then place in a blender on blend speed until smooth.  Then add all the other ingredients except the parsley and dill. Blend about 2-minutes on blend speed. You don't need a high speed. After all the ingredients are well blended, add the dill and parsley and blend only one more minute. Then pour into any dressing bottle and store in refrigerator.  Do not store for more than 1 week.  As the fresh cucumbers will not last long without preservatives. The Lemon can act as a preservative , but not for as long as the chemical additives.   People I have served it to seem to really like it.  Good luck! I hope it comes out good. Drop me a line in the comment section and let me know how it turns out.  Thanks for visiting!
*one other option if you want a really creamy dressing you can substitute sour crème for the yogurt.
*your prep time should be 10 minutes, it doesn't take long.